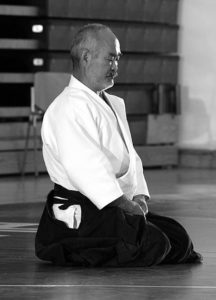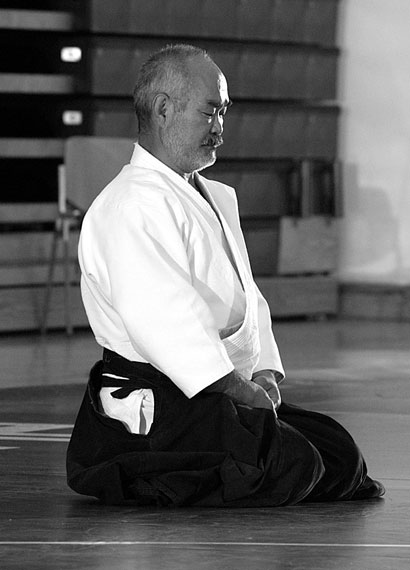 T. K. Chiba Shihan, founder (in memoriam)
8th dan
Founder of Birankai
(February 5, 1940 – June 5, 2015) T. K. Chiba was born in 1940 in Tokyo, Japan. At 14 years of age, he began serious Judo training at the International Judo Academy. Two years later, he began the study of Shotokan Karate, but still felt that he had not found what he sought in the martial arts. In 1958, he discovered Aikido and began seven years of intensive live-in study as an uchideshi (private student) of Morihei Ueshiba, the founder of the art. By 1960, Chiba Sensei had earned the rank of sandan (third-degree black belt) and was dispatched to the city of Nagoya to establish a branch school and to serve as its full-time instructor. In 1962, he was awarded fourth dan rank and began instructing at Aikikai Hombu Dojo. Within three years, during which time he taught at many local universities, he completed his training as uchideshi, and was promoted to fifth dan.
In 1966, Chiba Sensei was invited to the United Kingdom to teach Aikido.  He formed the Aikikai of Great Britain, which later became the British Aikido Federation. In 1970, he was awarded the rank of sixth dan and the title of Shihan. Though he left Britain in 1975, he later served as Technical Director of the British Aikikai, a group formed by his original students in the UK. Upon his return to Japan from Britain, he resumed teaching at Aikikai Hombu Dojo, and became Secretary of the International Department of Hombu Dojo. He also began intensive study of Muso Shinden Ryu Iaido under Mitsuzuka Takeshi Sensei during this period.
In 1981, Chiba Sensei accepted an invitation from the United States Aikido Federation (USAF) and moved to San Diego, California, where he established his own school, San Diego Aikikai, and in time, took on the leadership of the Western Region of the USAF.
In January of 2000, Chiba Sensei officially formed Birankai International, an international Aikido community that now includes nine country organizations. In 2001, he founded Birankai North America as a separate organization from the USAF. He held the post of Technical Director of Birankai North America until his retirement in 2010. Chiba Sensei passed away on June 5, 2015.